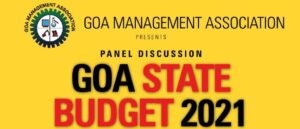 The Goa State Government presented its budget for the year 21-22 during the last week of March 2021.  This is the budget presented by the Government of Goa after the onset of the Covid 19 pandemic and the first one in the new normal.
In order to decipher the budget and what it means for the state, the economy, industry and people, Goa Management Association is hosting its annual signature Panel Discussion on Goa State Budget 2021 on Tuesday, 6 April 2021.
The eminent panel consists of
Mr. Kirit J Maganlal, Founder and CEO, MAGSON Group
Mr. Sandip Bhandare, CA & Former President, GCCI
Mr. Binayak Datta, Former CFO, Zuari Agro Group
The discussion will be moderated by Dr. Nilesh Borde, Professor, Goa Business School.

Keeping with the times, this event will be held virtually, and is open to all.  The details of the meeting are given below.
Date and Time: 6 April 2021, Tuesday, at 6.00 pm
Platform: Google Meet
Meeting Link: https://meet.google.com/ziu-kqvd-xbj
All are invited to participate in the event.  Interested participants may reserve their participation by contacting the GMA Office. 
2nd Floor, Facility Block, Sapana Gardens, CHOGM Road, Provorim, Goa
office@gmagoa.com / +91-832-2411538