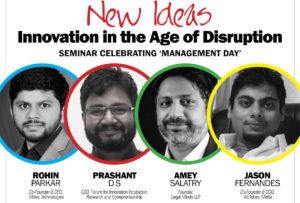 Goa Management Association is celebrating Management Day 2019 on Tuesday, 19 February 2018 at the Conference Hall at the Goa Chamber of Commerce and Industry. 
The Management Day Seminar will be on the theme of New Ideas: Innovation in the Age of Disruption.
Four prominent speakers will address the audience and speak about their perspective on innovation, enterprise and avenues and challenges in today's world of disruptive transformation, caused by technology, artificial intelligence, changing paradigms in consumer and social behaviour.  They will share their experiences on startups, in founding the enterprise, incubation opportunities and support system available, the legal framework, and other issues. 
Mr. Rohin Parkar, CEO & Founder, Mrinq Technologies
Mr. Prashant D S, CEO, Forum for Innovation Incubation Research and Entrepreneurship
Mr. Amey Salatry, Founder, Legal Minds LLP
Mr. Jason Fernandes, Co-Founder & COO, AEToken, Malta
The programme is open to all and GMA invites all management professionals, budding entrepreneurs and all interested to join the seminar.
Those interested to attend may contact the office of GMA at office@gmagoa.com or on +91-832-2411538.